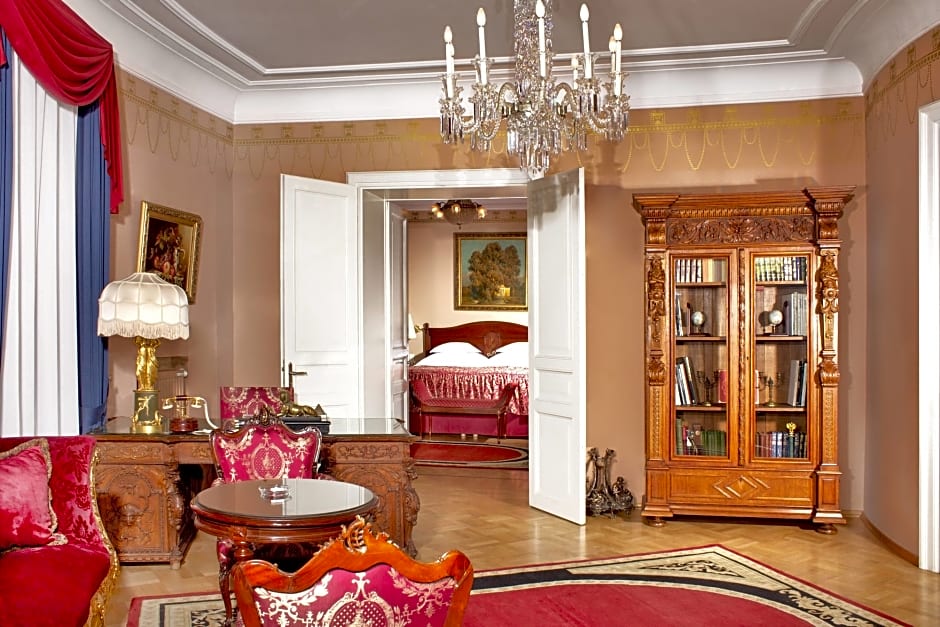 Hotel National, a Luxury Collection Hotel, Moscow is a terrific 5-star property ideally situated in the heart of the city, within easy reach of a variety of top tourist attractions, from the Kremlin and the Alexander Gardens to the State Historical Museum and the renowned Cathedral of the Archangel.

Each of the spacious and luxurious rooms is opulently decorated in a traditional but tasteful Russian style, featuring elegant period furniture and warm fabrics. The high ceilings and classic ambience add to the hotel's welcoming atmosphere and encourage guests to relax during their time at the National Hotel. Flat-screen TVs, bathrobes, a minibar, tea/coffee making facilities and modern bathrooms are just some of the excellent in-room facilities on offer.

Throughout the rest of the hotel there are a multitude of amenities to avail of. For business guests there is a comprehensive business center, internet access upon request and even translation services. For those visiting for leisure, a salon and spa, tennis courts, concierge, coffee shop, indoor swimming pool, laundry service and childcare facilities are sure to satisfy every guests needs.
ゲストレビュー
自分の意見や感じたことを教えるためにはこちらをクリックしてください >>
予約する方法
Hotel National, a Luxury Collection Hotel, Moscowで予約するのが簡単で安全でございます。ご希望の日付を選択します。そして、フォームを送信するために「料金を確認し」というボタンをクリックします。 客室タイプと料金はお宅の画面に戻った後で、画面の中央にある部屋の情報を読むと画面の右側にある「予約する」というボタンをクリックすることによって希望の料金を選択することができます。希望の客室タイプを選択した後で、「ご予約を完了」というフォームに転送されます。その時に「滞在の詳細」を確認して、「ゲストの詳細」という部分の空欄でご自分の詳細のことを書きます。ご自分の名前とメールアドレスが正しく入力されていることを確認してください。 すべての重要な情報を記入した後で、「ご予約を完了」というボタンをクリックしてください。ご自分のセキュリティを確保するために、私たちがクレジットカード番号を暗号化し、非使用可能な形式にエンコードする安全なコマースサーバーを使います。
地域情報
空港

Moscow, Russia (VKO-Vnukovo Intl.)

- 16.45 mi

Moscow, Russia (SVO-Sheremetyevo)

- 16.45 mi

Moscow, Russia (BKA-Bykovo)

- 19.59 mi

Moscow, Russia (DME-Domodedovo Intl.)

- 26.13 mi

ミュージアム

State Historical Museum

- 770 f

Staatliches Historisches Museum

- 817 f

Gallery Actor

- 0.65 mi